Quad bike riding on Stockton sand dunes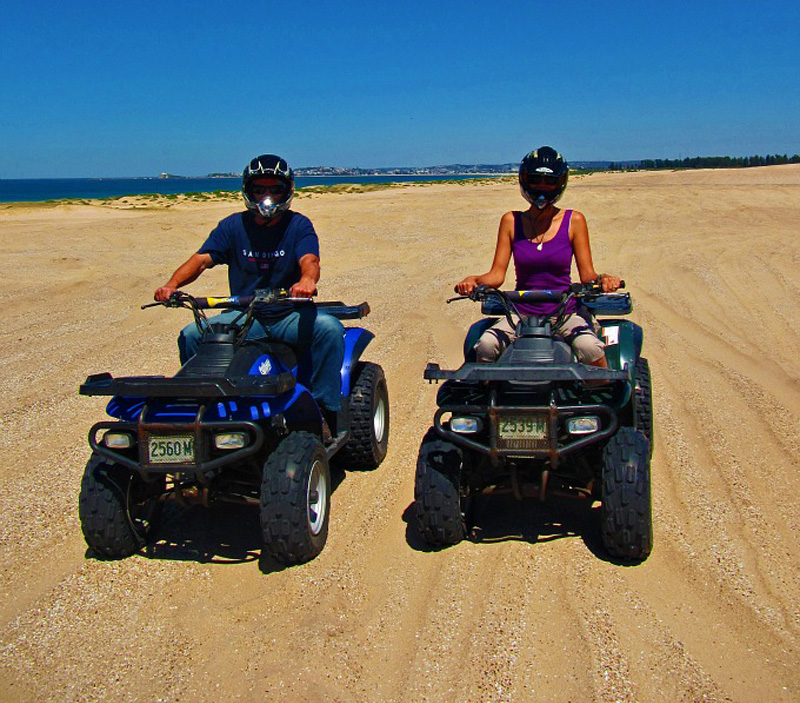 5
A few weeks back I spoke about the need for Craig and I to bring back date nights. Just after that the opportunity came for us to partner with RedBalloon.
Talk about magic. Speak what you want and the Universe will deliver.
It's kinda cheating in a way as we have had a little help in arranging dates, but why not use an experienced based site to help you plan for these special experiences? I often don't have the time to think of them myself.
Except for Craig's Father's Day present, I arranged for tickets to see Good Charlotte at Luna Park. That was a cool date night. Seeing bands has always been one of our favourite ways to hang out.
So far RedBalloon so far we have ridden a helicopter over Sydney Harbour. (I actually preferred this to the Sydney Harbour Bridge Climb)
And on Thursday we hit the sand dunes at Stockton Beach for some quad bike riding.
We did our first quad biking back in May at Glenworth Valley which was totally awesome. Even though it was so great, it paled in comparison to quad bike riding on the Stockton sand dunes.
Wow!!!
I live only 90 minutes south of this area. I've been told about it all my life and thanks to this RedBalloon experience I finally got my butt there.
It is bloody beautiful. Like seriously beautiful.
32km of white sand hills overlooking the brilliant blue Pacific Ocean, whose waves create a wall of white water as they crash onto the sand. The dunes are the largest moving mass of sand in the Southern Hemisphere.
As Dean, one of the guides told us,
"Every day is a new adventure here for us as the sand is constantly reshaping the dunes and giving us new tracks to explore."
I fanged around on that bike in total awe. We started off cruising over the dunes until we got used to the feel of the bikes and then we picked up the speed a little.
Our guide took us on an adventure around and over the dunes, giving us time to get used to taking fast turns safely and taking in the extraordinary views. I felt like I was in Namibia, Africa.
We didn't really have time for camera footage along the way, but the beauty of the desert wilderness is firmly imprinted in my memory forever.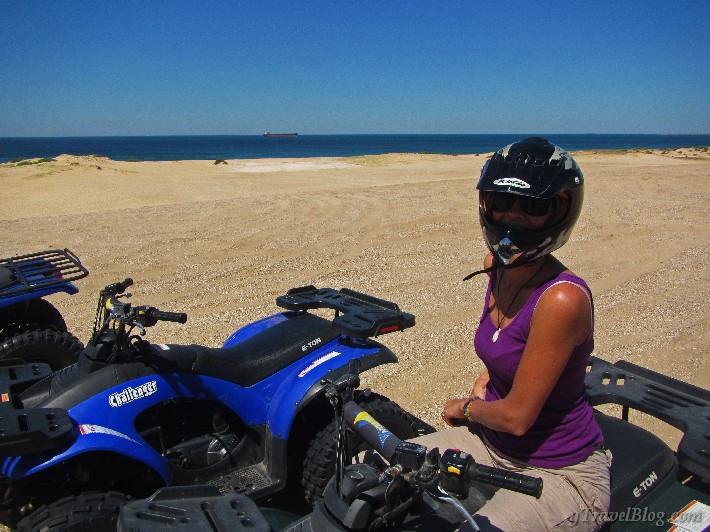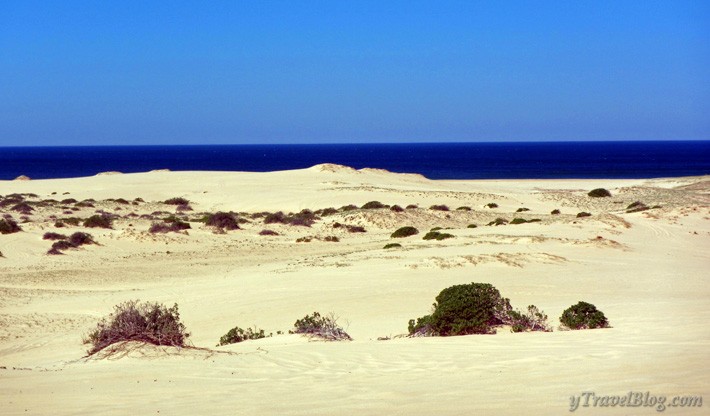 We stopped at the Sygna Shipwreck and learned a little history of the tanker that run aground here back in 1974 after being pummelled by a large storm that brought 18m waves and 165km winds.
During the rescue mission the ship broke and the stern remained here at Stockton Beach nice and settled into its new sandy home.
It's quite the icon for the area now as it is the last of 59 ships which have been lost on Newcastle shores. Don't delay in coming to see it though as it is slowly rusting away.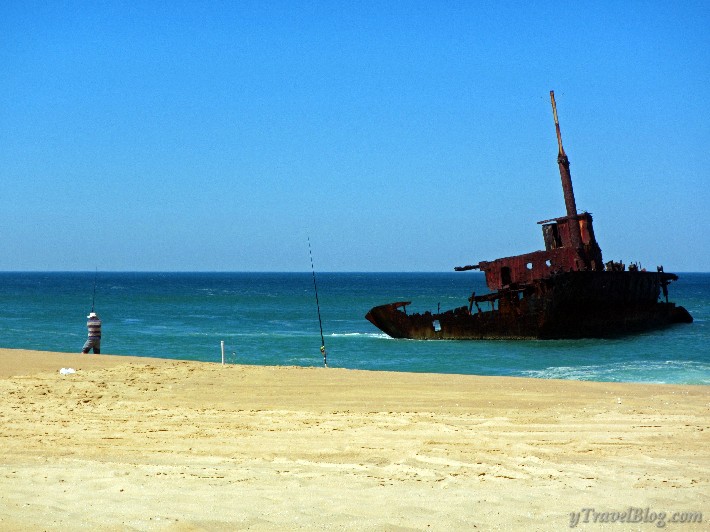 The last part of the tour on the way back was the most fun for me.
Whereas before we were taking a steady course up and over the dunes, this time we hit a few little natural sand dune courses for fanging around tight corners and biking up over bumps.
We went around the circuit several times, each time I got a little more daring to hit the accelerator a little more, squealing with delight as I went airborne a couple of times, and managed a couple of fishie tails (i.e without trying). Wicked fun!!
I really had to rein myself in and remember our guide's instructions before we left about the helicopter rescue flights costing $10,000 if you did not have private health or travel insurance. Ah that would be me!!
Lucky there were no injuries, just unbelievable fun in the most stunning environment you could ever hope to go quad bike riding in.
Christmas is around the corner, which is the time that Quad Bike King goes more than a little crazy with people wanting to soak up the sun and sand with some quad biking adventures.
I would be jumping on the quad bike riding in Stockton sand dunes either for a Christmas present, a date night for you and your honey, or even a family day out (kids only the age over 8 allowed).
It was a blast.
Watch the short video of the fun we had quad bike riding at Stockton sand dunes.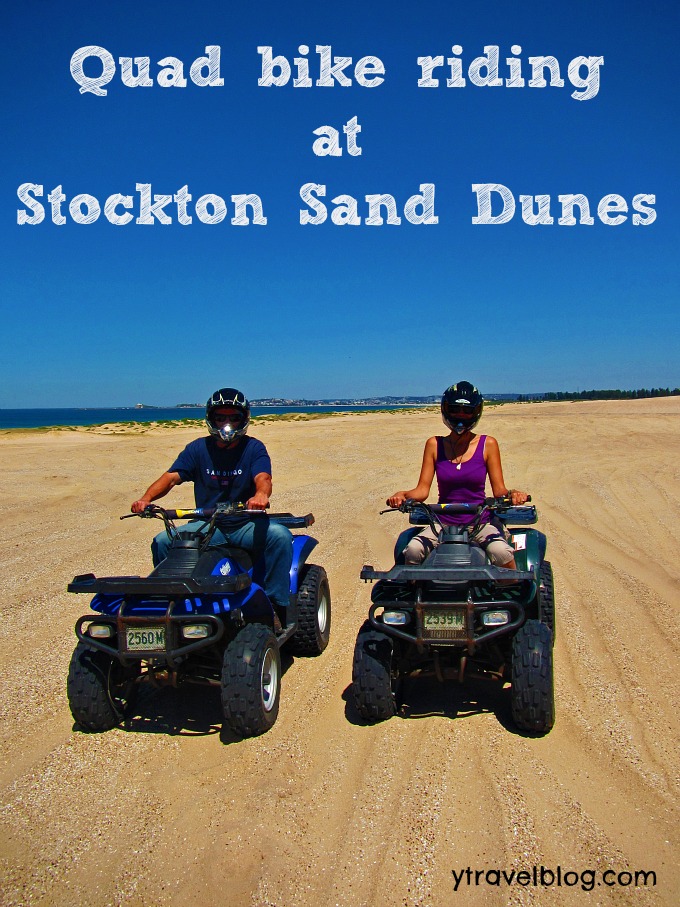 Your Turn to Share Tips:
Have you ever been quad bike riding? Stockon sand dunes? Share your experiences below