Sacred Step 5: Over commit to learning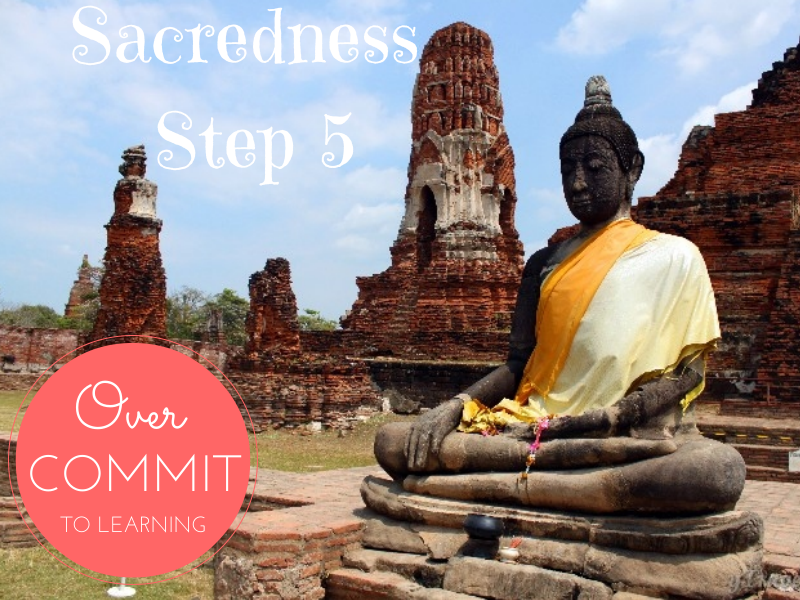 0
I have an insatiable appetite for learning and can always be found with a book in my hand or on Dr Google finding the solutions to all my problems.
If I don't know something, I can always learn.
This is the mantra I have applied diligently to my work life, travel life, and business.
I've worked a wide variety of jobs since I turned 14 and 9 months: shoe salesman, check out chick, cook, waitress, bar woman, teacher, pearl farmer, tutor, saleswoman and now publisher, writer, editor, photographer, designer (sort of) (not really), community builder, marketer, administrator, and the list never ends.
I'd get excited with each new job, not so much because of the pay or conditions, but because I knew it meant I was learning something new. I wanted to cover as many bases as I could so I did not arrive in a new country and stay jobless and penniless for long.
Education has and always will be my ticket to freedom.
It's this overcommitment to learning that helps me work to overcome problems and gain the confidence to try new things. If someone else can do it, I can too. I just have to learn what they learned.
I've invested thousands of dollars and hours of time into learning so that I can evolve and grow myself and my business. Committing to success means you commit to doing whatever it takes to get there.
Sometimes this means forking out money for courses, books, or even coaches. It's not an easy decision to make especially when the bills are piling in and the income isn't.
As Benjamin Franklin says,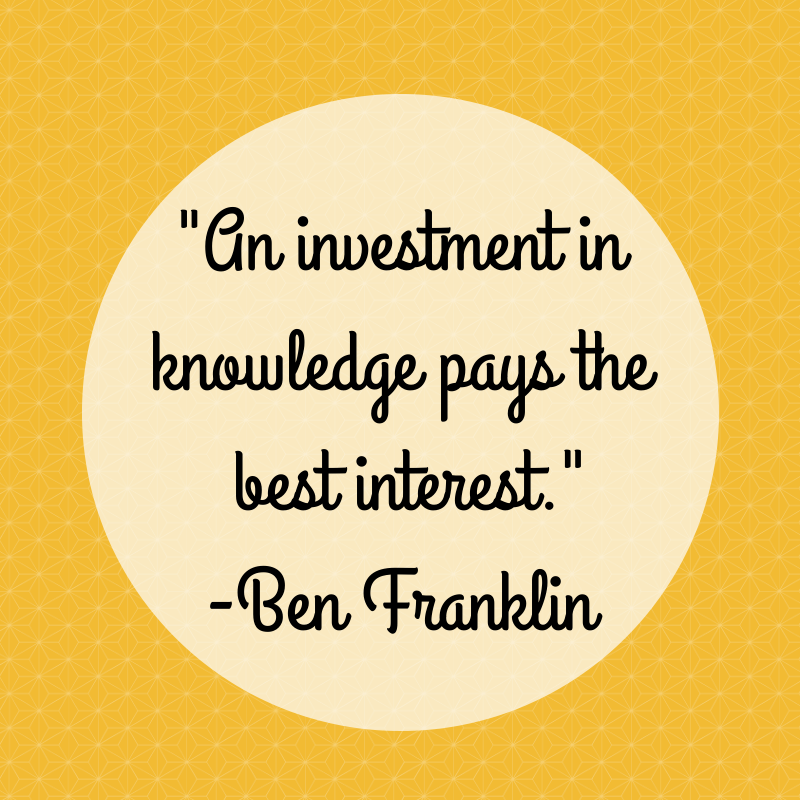 I devote time daily to improving my mindset by reading biographies of successful people and diving into my soul to clean it with ideas from spiritual thought leaders. I meditate and train my brain to think with a winning, positive mindset. I do all I can to eliminate negative influences.
These are just some of the courses I have taken to learn the skills I needed to create this dream travel  life:
Travel Blog Success, Matador U Writing, Sydney Writer's Centre, Guest Blogging, and the latest and best, Marie Forleo's B-School. Craig's just finished John Loomer's Facebook course and I'm in the middle of Create Traffic Driving Images and Publicity Alchemy. And Im just about to enroll for Modern Mystic!
Sometimes I think its more addictive than my morning coffee or afternoon wine. (Ironic that both of those go well with an open book!)
It's easy to put learning on the back burner. We think it's more about pushing and taking action, and learning is this in a sense, but it's action is more one of allowing.
Opening up the mind to allow the wisdom to pour in and be absorbed by our pscyhe. You can't step into your sacredness without learning along the way.
You can't make the I don't have time excuse to not learn. And there's no more of that I hate reading excuse anymore. We have a multi-modal world to help you learn in a way that suits your style.
I'm crazy busy, yet these are the books I've read so far this year:
Each of these have had a profound effect on my thinking and decisions and new life changes this year. My soul can't stop devouring all it needs to move forward to the new level.
How do I do it with such little time:
Prioritize -less facebook, more absorption of wisdom
15 minutes a day is pretty much all I do. Just before going to sleep, or when I'm cooking or have some down time waiting in a line.
It's amazing how much your life can change just by taking 15 minutes every day to learn.
How can you to start your learning journey
Write a list of all the things you need to learn to create your dream life.
Start reading and learning from those who have mastered it.
Use free resources from the local library, websites, eBook and podcasts.
Be prepared to invest time into learning
To ramp it up and get premium knowledge and fast track your success, you have to be prepared to invest money into you.
You can find more great inspiration on living a soulful life in my ebook: Step into your Sacredness: 12 principles for creating the life your soul yearns for.
For more Sacred Step posts click here.
Your Turn to Share Tips:
How do you commit to learning for your dream?