White Miso Green Tofu Curry- I wow the Malaysian Kitchen judges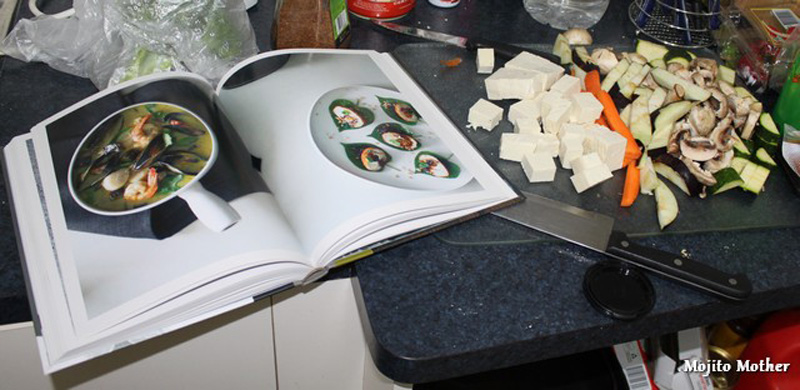 1
After having a delicious Malaysian feast a couple of weeks ago as part of the Malaysian Blogger Ambassador Program, I just can't stop thinking of Asian food.
In fact, I'm really turned off eating Western food right now, and I groan every time I open the fridge or cupboard at the uninspired choices.
The dinner reminded me just why I love Asian food.
It tastes delicious, it's fresh and healthy, it's not processed with artificial flavourings and cancer causing agents, it's not heavy, it lacks dairy, and it has the perfect blend of sweet, sour and spicy flavours.
I miss living in Thailand where I ate this food three meals a day, cooked by someone else of course. I had never felt or looked as good.
But, now I'm back in the Western world, I'm in a bit of a quandry. Eating out three times a day will literally drive me to the soup kitchen, I have very little time to prepare an Asian feast, and quite frankly, a Master Chef I am not.
So my time limited, cash restrained choices usually steer me towards unhealthy, heavy dinnerss with some help forom my frozen food friends.
Blah….
Watching Masterchef has inspired me lately to think a little more creatively with my cooking. I linger over cook books and magazines a little longer to get ideas and to dream of having the time and energy to whip up delicious meals.
At least the intentions are good.
Two Asian Kitchens
Yesterday, I decided to get out the Two Asian Kitchens recipe book by Adam Liaw that we received from the Malaysan Kitchen program, before the dust began to settle in thick layers and just see if there was something I could produce.
To keep my inspired movement going I decided to throw on the Malyasian Kitchen apron.
If I look the part then I can surely act it, right?
This book is really daunting as for every recipe Adam has you making some paste,stock or sauce from scratch.
Well that ain't ever going to happen for me. I do from scratch when someone else is doing it for me.
Lucky I always have a wide variety of ready made Thai curry pastes and sauces sitting in my fridge. Yes, I do attempt to make these frequently, but I always end up disappointed by how far from the real thing it tastes, that it just sends me back to the frozen fake chicken schnitzels.
I decided to let Adamm Liaw to give me a hand and teach me the right way to cook it, plus add a little flair to it.
So enter
White Miso Green Curry
"A dish that is a Thai-Japanese mix. The miso works with the salty-savoury flavours of the curry paste and the sweetness of the coconut cream to add an interesting complexity. Both miso and green curry are great matches for seafood and eggplant"
Now with every recipe I ever look at, I never have the exact ingredients, so I usually improvise. (maybe that is why my latest cupcake attempt ended so badly)
I wasn't going to make the curry paste, and I didn't have any White miso paste so I was just going to turn it into a green curry, not much unlike I usually do. I didn't have any seafood, so it was going to be a tofu and vegetable curry.
The ichiban dashi … whatever that is, I wasn't going to make from scratch, so I dropped it and the mirin…hmmm.. says its sweet so I'll just use palm sugar instead.
But hey, I was using the book and had the apron on. I was being a Master Chef and improvising.
There was something niggling away at me about the white miso paste though. I knew I had seen it before. I dug around in my fridge and shoved down the back of the "fake" meat compartment I found it, a packet of white miso paste. I had bought it months ago when I planned on making miso soup every day as it is so good for your health.
The packet had not yet been touched.
My excitement began brewing as I realized I was going to produce an extraordinary Thai-Japanese curry tonight that would wow the socks off the judges patiently waiting for this feast.
I read each recipe step twice before doing it and then twice whilst doing it and twice again before moving to the next. It didn't matter that I was following it exactly (except for a few ingredients), I was convinced that it just was not going to turn out right.
When it came time to put in the white miso soup that I made from the paste and melted palm sugar, I almost held back. Fear that I was about to destroy a somewhat bland and unexciting, yet edible curry overwhelmed me. How on earth could miso blend with a green curry?
For God Sake Caroline, Adam Liaw won Master chef, he knows what he is doing. Pour it in."
So I did and held my breath. I hate to the smell of the miso was so strong and as Kalrya would say "saltery"
I didn't breathe again until I took my first bite, and delighted in the taste.
It tasted just like a green curry with miso in it.
The perfect blend of salt, spice, sweet and sour.
Ha Ha! I did it.
Ii took a normal, ordinary dish and flaired it up. I am a Master Chef.
And the judges?
Kalyra opted for just rice and breathed out a 3 year old Thank God sigh when she saw there wasn't any vegetables or sauce in her bowl. She is my toughest critic. And only last night told me that she was going to teach me how to bake cupcakes.
I asked Craig "So What did you think about the curry tonight?"
"Yeah it was great love. Thanks. No different to usual though, why?"
Sure bloody glad I didn't bother with the fancy garnish.