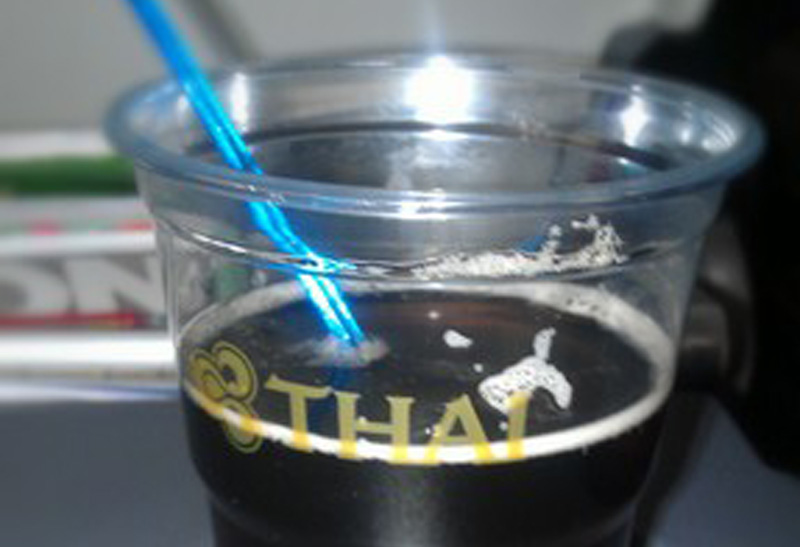 5
10:30am and I'm already drinking a bourbon and coke.
Two sips in and I'm already considering a second, maybe even a third.
Bourbon usually comes at the end of the evening for me when I am in full fledged party mode and my senses have been lost.
Never the first drink , and never so early in the morning.
I'm 30,000 feet above the earth flying to Bangkok, going through some of the worst turbulence I've ever experienced.
The only other time I've let drink become an antidote for fear was when I was kidnapped on a motorcycle in Indonesia. I returned home safely after spending hours thinking that death was to be my new home and immediately threw down a couple of straight vodkas.
I've written extensively before on my fear of flying. Taking off on this flight, I was much calmer than usual and thought I may have been venturing into the world where I don't think twice about flying.
Just like I do when I get behind the wheel of the more dangerous car.
A little way into the flight my semi-calm state disappeared when we began to shake, rattle and drop, like the scariest roller coaster ride ever, but no matter how hard I tried I could not convince myself to throw my arms up on the air and squeal with delight.
My hands gripped my arm rest, my stomach sat up around my chest, my legs weakened with the hollow feeling of terror eating away at my strength.
The hostess arrived beside me with the drink cart and without thinking, I blurted "Bourbon and coke."
Yes to the ice.
The man beside me ordered the same. So did the man in front.
Heavy drinkers or cowering in fear like I was?
I turned off Moneyball. Even Brad Pitt could not put me in a happy place.
Usually turbulence eases up for awhile. But for 15 minutes it relentlessly pursued our plane.
I groaned outward and willed myself not to stand up like a woman possessed and shout,
"Why the fuck do you not have the seat belt lights on? Why all the rattle and rolling? It's a fine day. There's no storms, no equators, no volcanic activity? DO YOU KNOW WHAT YOU ARE DOING?"
And then the ding dong of the seat belt light and the Captain's announcement:
"We are entering into turbulence zone and have to suspend all service."
What? Just entering it NOW!
The suffocating air swarmed around me.
"Breathe, breathe."
Craig's voice echoed in my head, just like it did when he was rubbing my back helping me to overcome my pain hysteria bringing Savannah into the world.
Just remember to breathe.
Long and steady.
A wave of calm entered my body.
Long and steady
It's just a bumpy car ride, that is all.
Long and steady.
A plane can't fall out of the sky from turbulence.
Long and steady.
Breathe.
The shaking soon stopped, my legs became solid again and the seat belt light came on.
What on earth am I doing still drinking bourbon at 11am?
Six steps to creating a soulful life
Yearnings are to be followed
posted in: Featured, Travel
tagged with: fear, fear of flying, travel