Mojito Mother Podcast For Women and Mothers
Welcome to the Mojito Mother Podcast for women and mothers. Please listen to the recording below so you know a little bit more about the podcast and what it will involve.

Podcast: Play in new window | Download | Embed
The podcast will be broadcast at least once every two weeks, heading towards more of a weekly show.
The show will feature
readings of posts/stories
strategies to extend upon the ideas presented in my free ebook "20 lessons travel taught me about life."
Interviews with inspiring people
Strategies to put the Mojo back into your life- concentrating on all aspects of our life.
And more…
You can subscribe direct through itunes, so you can have it downloaded straight to you itunes store and automatically updated with each new episode.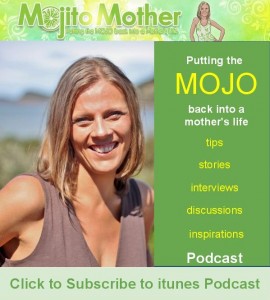 or subscribe by RSS Feed
You can check out my first episode here on Getting Started