How to Enjoy a Weekend Family Getaway to the Hunter Valley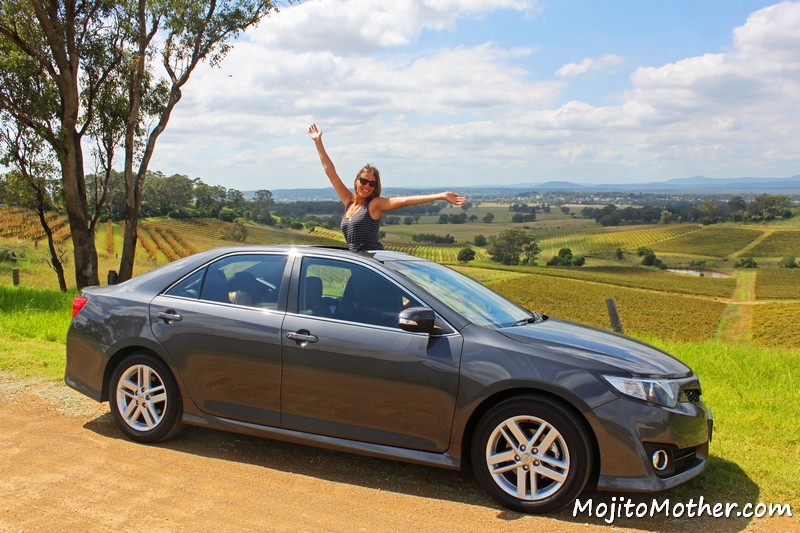 6
I travel a lot. Obviously.
Well if you are new to my blog, it might not be so obvious to you, but search around a little bit more, maybe pop over to y travel blog and you'll soon start to get the picture.
Most of my travels recently though have been blog related and so are a different sort of travel. The fast and furious kind. Fun,yes, but a lot of work at the same time.
Not what I would call a much needed relaxing break, which I was able to have this past weekend in the Hunter Valley, thanks to the new Toyota Camry Atara, who sponsored our stay and allowed us to road test the vehicle.
It is hard not to relax and enjoy yourself in this infamous wine region only an hour and a half drive from Sydney.
The perfect family getaway (actually perfect for couples, golfing buddies and girls weekends away too)
How to Enjoy a Weekend Family Getaway to the Hunter Valley
Drive around the Winery Trails
Not an ideal thing to do if you want to do a lot of wine tasting, but since your children are with you, you probably don't want to anyway. The drive through the valley is spectacular.
I recommend the Mountain View Trail, driving up to Bimbadeen Lookout for spectacular views of te eValley and the Brokenback Range.
Stop in at the Savannah Estate for some wine tasting, our obvious favourite of the day.
The Lovedale Rd Trail, famous for the Lovedale Long Lunch held in May, is also a quieter, unhurried trail with many boutique wineries, a chocolate factory, and fine restaurants.
Gartelmann's Magpie Cafe had inexpensive, fresh, and healthy home made lunches by a pretty lake and fountain in the forest.
Then there is the more flamboyant and boisterous Pokolbin Trail. this is where you will find the most well known  and award winning restaurants and vineyards, the Hunter Valley Gardens and all the boozy wine tour buses and hens and bucks nights. I know it well as it was where I had my hens day out.
My favourites are Tempus Two, McGuigan Wines and Harrigans Irish Pub for lunch and a few pints of Guinness.
Stay at the Crowne Plaza in a Family Villa
When you stay in accommodation like this it is hard to get yourself to step outside your door and explore, especially when it is a relaxing weekend away. Kalyra just wanted to hang in her room with the TV in it- the BEST room she's ever had!
Craig and I enjoyed hanging out on the couch together drinking wine, eating potato chips and watching trashy reality TV shows!
The buffet breakfast at the Crowne Plaza was one of the best I've ever had. Fantastic views over the golf course, espresso coffee, a large selection of delicious food and a juicer!
It was a fantastic way to start the day and must be legendary in the area, judging by the comments we got from the locals asking if we enjoyed it.
Go for an Early Morning Jog followed by Hot Air Balloons racing to the moon
I know this doesn't sound too relaxing, but it was the perfect way to start the day. The air was fresh and crisp as I jogged around the sand dunes and through the forest of the golf course. It was a beautiful and quiet morning and it pumped me up for the day.
Just as I was about to jump in the shower on my return, Kalyra yelled at me to "Come quick, the balloons are in the sky!" We stood on our balcony and watched the hot air balloons race each other up to a full moon.
Maybe you might even want to watch the sunrise from the basket of a hot air balloon over the Hunter Valley yourself. The champagne after it sure tastes great.
Have Massages
The way to my heart is always with a massage. My preference is always a Thai massage. The aggressive stretching and kneading does wonders for my sense of well being and connectedness.
I'm not sure you'll find too many Thai massages in the Hunter Valley, but there are plenty of opportunities to have a more relaxing one at any on of the Health spas around.
The Crowne Plaza has the Tea Tree Spa, and it welcomed us in with hot shoulder packs to prepare us for the hour long Swedish massage. Craig and I had to take it in shifts with the girls, and it was the most relaxing hour of the weekend. I was more then ready for the upcoming tantrums that were to come during our game of family mini-golf.
Putt Putt Golf and Lunch at the Hunter Gardens
You can pay $20 to go in and see the beautiful Hunter Gardens or you can explore the little village on the outside for free. We chose free.
There is a kids playground and a huge picnic area and with the sun finally coming out it would have been perfect for a family getaway lunch.
On the lake is Aqua Golf with a side of Putt Putt.
There's no better game to show you just how much your children are like you. When Kalyra threw done her club and stated, "I hate this game and I don't want to play anymore," I had flashbacks to Broome Golf Course in 2004 when I played with Craig and my brother.
I think I may have just thrown mine a little further.
Other than that little spat, and the one that came after with the lollipop, she did quite enjoy herself and I was impressed with her putting skills.
After Putt Putt you can enjoy lunch at one of the cafes or restaurants in the village. We ate at Oscars, which I felt was overpriced with small portions, and it was far too busy to enjoy it. The live acoustic guitarist and the shining sun did make it more bearable though.
Play time by the Pool and Dinner with Friends
Dedicate time to enjoy the resort you are staying in. Block out a couple of hours in the afternoon to swim in the pool and laze around on the banana chairs with a good book, conversation with friends and a couple of sunset beers.
Really good friends of ours live in the area, so we invited them over for a swim and some Thai take away dinner. It made the afternoon and evening all the more relaxing as the kids were busy having fun together and we could have some adult conversation, washed down with a nice drop of Hunter Valley Merlot.
 Snag a Bargain- Case of Shiraz for $50
I almost left this out! How could I? Not only do you have the opportunity to taste exceptional wine throughout the Valley on stunning estates, there is also the opportunity to snag a bargain. Don't go there wanting only to drink free wine, take your credit card just in case.
We were delighted to stop in at Wandin Valley Wineries– yes it is named after the show, the writer/producer of the show once owned the Estate.
As we were trying a wide selection of reds, the very friendly server told us of the deal for that day.
One of their labels, "Swish" was ready to be an export wine, and it fell through at the last minute. That meant the bottles were fairly useless to them in Australia. So they were cartoning them up and selling them off for cheap.
12 bottles for $50 of fairly decent Shiraz. Now that I think of it, I should of bought 2 cartons.
—-

Hopefully now you can see just why the Hunter Valley is the perfect family getaway. I am already planning what wine route I'll be taking next.
Your Turn to Share Tips:
What are your favourite things to do on a family getaway?