Craig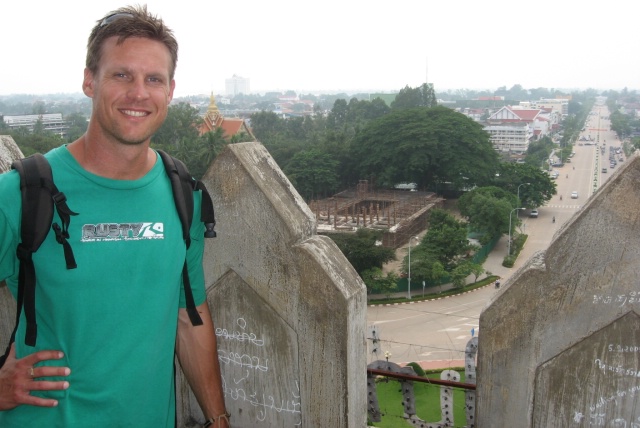 Throughout this blog, you will NOT see me refer to my husband as the Mojito Man, Daddy Darling or any other annoying initials to make him seem so secretive.
I might refer to him in words like Jackass, Sex God, or the One-Who-Now-Has-Love-Handles-Instead-Of-Six-Packs, but most of the time it he'll be just Craig, as he's always been.
Every now and then he will put his extraordinary wit and male insight into words for the Mojito Man segment of this blog. Yes, we all crave the wisdom our men can impart to us.
Mostly he will appear because, well, ever since we've met we've done everything together and in the words of the great Jerry Maguire "He completes me"
Barf bag anyone? I certainly need it.
Might seem weird to you, but after travelling the world for 9 years together, spending 24/7 in each others pockets, your limbs start to amalgamate and you become him and he becomes you.
I couldn't really imagine taking a project on like this without him participating somewhat. That is how we roll, and that is what works so well.
Sign Up To Get
My FREE exciting monthly NEWSLETTER and ebook
About Craig
Once played professional rugby league for North Sydney Bears.
Is an absolute sports fanatic. If he's not watching it, he's reading it or talking about it. Besides our Aussie sports teams downunder, he's a huge Carolina Tar Heel and San Francisco 49ers fan!
Adoring father to his little girl, who frets when her daddy is not in her vicinity devoting his time to her.
Co-founder of y Travel Blog, making written guest appearances, and the social media guru of the operation.
Carpenter, slowly extracting himself from the physical demands of the job. That combined with years of football abuse sees him having many visits to the chiropractor and Bowen Therapy specialist.
Of course a lover of travel. Always looking for ways to travel more and more.
He wouldn't usually drink mojitos. He's more of a beer man, and the occasional red wine, and usually at the same time.
Sign Up To Get
My FREE exciting monthly NEWSLETTER and ebook