Why I don't give a toss if someone makes money from their blog?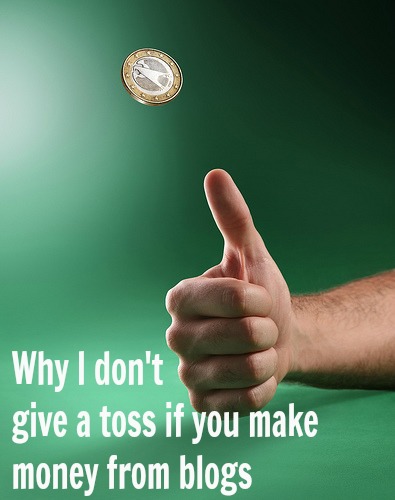 The argument and discussions continue to go on about sponsored posts, paid reviews, yada yada yada.
Insanity always hides around every corner.
This is not really a post to adding to the merry-go-round, but to get back to the very basics of why it shouldn't matter.
Do we give Olympic athletes and famous rock stars shit because they appear on ads eating the latest nutri-grain and drop their sponsor's name five times in an interview?
No.
What's the difference?
They are people who have found a way to make a living doing what they love.
Standing ovation.
Last year I attended the Australian Open of Surfing. Mitch, an Aussie surfer came in from his heat and before he was interviewed for TV, someone handed him his sunnies  and a hat, both of which were bearing the name of his sponsors.
Did he declare, "Excuse me before we talk, so that you know I am being authentic and not trying to cheat you, I am sponsored by XYZ which is why I am wearing their hats."
(And while I am not going to get into an ethical debate, it's best for all bloggers to have their disclaimer up when they are sponsored in any way–keeps you honest and real. I've rarely met a blogger who doesn't.  And when you write a sponsored post or review be honest and only take on something you know resonates with you and your readers and you can be honest about. Problem solved.)
Sponsored for passions
Most bloggers I've met are decent, warm caring human beings who are truly passionate about a certain area in their life. And they are passionate about helping others transform their lives. What's wrong with them earning money so they can continue doing that?
Most of the time they are being sponsored for what they are passionate about and believe will help change their readers lives in some way–or at least make them happier for a moment. People rarely will do the wrong thing by their passions.
Just like Michael Jordon is passionate about Nike. Because they helped him to fly right? I brought a pair of Nikes because I love Michael Jordan. I trust that Micheal Jordan wouldn't put his name to shit. They didn't make my fly, but I don't blame him for that. They were pretty good shoes.
I don't begrudge anyone who earns money doing what they love, especially when they are providing value to those who follow them every day. If advertisers wanted to pay people to be Ambassadors, I think that is an awesome win for those who have worked their arses off to get to the top of their field.
I don't give a toss if this is what happens. Again, standing ovation for getting there in the first place–well deserved.
Simple equation:
Do what you love + provide value to others = the right to be paid accordingly.
Bringing it back to me
But the absolute REAL reason I don't give a toss is the one thing I think society is going way downhill with and keeps me awake at night.
The real reason I don't care who shows up wearing what on TV, who writes about what in a magazine, newspaper or blog, about what product or brand is that I know:
Ultimately the decision as to whether I buy something always rests upon me.
Sure someone I trust may recommend it to me, just like my best friend will recommend a place to get a hair cut.
If I choose to go there and it goes wrong, am I going to blame my friend, or heaven forbid the hairdresser who cut it (hang on a minute maybe I can sue to make a quick buck)?
FUCK no. Why? Because shit happens in life that's why. Deal with it, or spend the rest of your life in a constant bitter bitch mode.
At the end of the day, my friend recommended I get a hair cut there, I trusted and went. It didn't mean she was steering me down a wrong end street. It just didn't work for me.
Ads never stop coming into our lives. It's up to us to choose whether we buy or not. It's up to us to take the recommendations– often from those we trust– and do our due diligence. Do the extra research. Think about our own needs and desires and what makes sense in our lives and so make a choice.
You're smart enough to know who you can trust in the first place and you've got everything you need within you to make the BEST decision for YOU.
No one can ever rip you off or cheat you. Maybe in a game of poker when you don't know what you are doing and you can't see their cards, but then you chose to play.
In the game of life, you have a friggen choice. When you are consuming media you have a choice as to what to believe. If you believe a trusted friend, you still have that choice to say yes or no based on what is best FOR you.
It's all about taking responsibility. Screw the blame.
Ultimately if you buy the product and it goes wrong, its your fault because you bought it. You could have said no. You didn't have to be persuaded.
That's why I just don't get the constant humdrum about it. Are you basically saying you're a puppet who can't make their own decisions and have to be led to the wallet by an ad? Where's your self-c0ntrol? Where's your ability to make a choice?
What happens when promises aren't delivered
We made a bad property purchase a few years ago. (Read this if you want to know how bad it was) I tell you we received bad advice from several parties throughout the process. Yes, I could have pursued and sued and done all the rest.
But you know what all of that is bullshit. Because at the end of the day, we did not do our due diligence. And that is OUR fault. I am responsible. If you're not at cause then what is going on? You're letting life happen and when you let it happen, shit hits the fan because no one is in control.
I've recently had an experience when something that was promised to me was not delivered. This was by way of product, not even advertising. Sure it absolutely irritated me because I do believe in integrity and you shouldn't entice people to purchase your product and then not deliver.
But, I know that I don't have any control over what anyone else does so it is pointless for me to go screaming and raging in forums all over the internet. What I do know is this, I did not, once again, do my due diligence. I should of waited, I should have investigated other options and took the time to think more about my choice and what would serve me best.
And I didn't. So I am kicking myself more than the person who didn't deliver. And for the people who lost their integrity for a bit, I just no longer believe in them much. But, they made a mistake, I don't wish ill upon them. I'm sure they'll learn and do better next time.
It's not up to me to worry about what they see when they look in the mirror each morning. It's up to me to care what I see in mine.
We're never going to get rid of advertising. Its how brands tell us about their new products. We just have to become smarter about the choices we make in regards to the advertising.
I mostly only buy products and services now through recommendations from my blogging friends, sponsored or not. I trust them more. Sponsored or not. I've not been let down once, in fact I've been overjoyed with my new discoveries. They led me to the water, sure, but I decided whether to drink or not.
So I don't give a toss if someone makes money from their blog. I don't feel like I am being abused or taken advantage of , because I know that ball is in my court.
Boy oh boy, isn't life so liberating when you are in control of it?
Now I'll turn the conversation over to you. Let's keep it respectful.
Your Turn to Share Tips:
How do you approach it when you have been lead down the wrong path?