Saturday Mojito with Christina from Hair Romance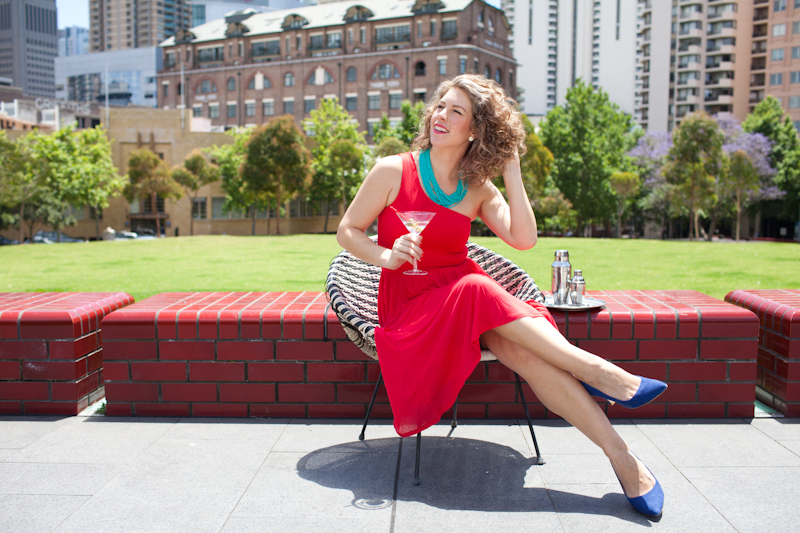 5
When I first met Christina and found out about Hair Romance, I could not believe anyone could write about hair all the time.
Not only does she write about hair really well all the time, but she truly inspires you to love your own hair.
I have a long way to go before I can do that, but I have certainly applied a lot of Christina's tips to lushing up my hair a bit. I only wish it could look like hers.
Not only have I come to love her blog, but Christina herself. She has so much fun energy about her and I always love catching up with her for a chat and a few drinks.
We've since come to know Jim, her husband, and the four of us love getting together. Jim and Craig love the fact that they can have a bromance amongst a sea of women bloggers.
So come and learn a lot more about the lovely
Christina from Hair Romance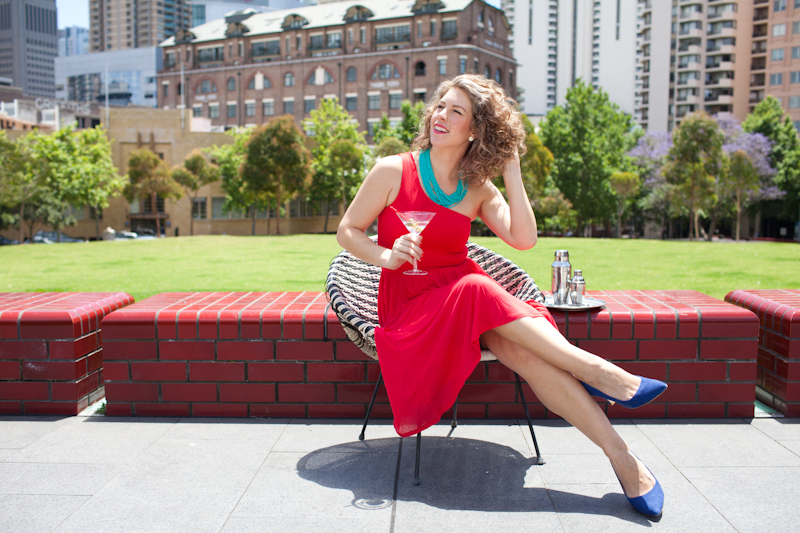 Where did you grow up and go to school?
I'm a Sydney girl, born and raised but I spent the first year of my life in Fiji where my Dad was working and part of my last year of school in Paris on exchange.
First job you ever had?
Perhaps I always had an entrepreneurial spirit as I used to charge my family a dollar a present to do everyone's gift wrapping at Christmas time. My first official job was as a sports photographer's assistant on the weekend when I was in high school. My passion for photography started in art class and I loved being paid to learn more about it on Saturdays.
Cheap or designer sunglasses?
I'm a sucker for designer glasses. I once took a horrible temp job for a week because my pay was just enough to buy a pair of Chanel sunglasses.
Who is your biggest girl crush? Boy crush?
I'm hair obsessed and I love Beyonce, Gwen Stefani and Blake Lively for their locks.  Took me a while to get the Ryan Gosling thing but now I do.
Where did you go for your honeymoon?
Lots of family and friends travelled to Sydney for our wedding and we didn't want to miss spending time with them so we had a "minimoon" up at Cape Tribulation in the rainforest. Since then we've had some amazing trips to Europe and Asia. We love travelling.
If we were to meet for a drink, what drink could I buy you?
Champagne or a gin martini. Three olives please.
Dream shopping spree destination?
New York for sure. So much cheaper than Australia and one of my favourite cities in the world. I could do a world tour of shopping to Tokyo, Paris and London too.
Any phobias?
I think I suffer from fear of missing out, but I'm learning to prioritise. ( I feel your pain!- Caz)
Coffee and cake…OR…wine and cheese?
Definitely wine and cheese. Instead of cake at our wedding we had tiered wheels of cheese to cut.
Most annoying habit of your husband?
Correcting my grammar, but it does help when I'm writing.
Kisses OR Cuddles?
Both
Pet Peeves?
No taxis when it rains and I dislike bad service.
If I came to your house for dinner, what is your signature dish?
I love entertaining but I don't have much time for cooking lately.  I can whip up a mean risotto but most likely I'd order food in or my husband will cook.
What is your idea of a romantic evening?
Cocktails in a small wine bar, followed by a delicious dinner. Mostly, I'm just happy when my husband tells me he's cooking dinner. That's romantic.
 Any hidden talents?
Giving directions. I love stopping to help tourists in Sydney as I know the city so well, and entire public transport system.
 What would you like to change about yourself?
I'd love to be a bit taller, an inch or two longer legs would do it. I just wear heels instead.
The best relationship advice that you have ever gotten?
When I was 20, my mum suggested to my then boyfriend that I should be seeing other people and I was too young to settle down. He's now my husband and my mum absolutely loves him.
 What quote motivates or inspires you the most?
I have a pinterest board just for quotes and I love "Be the type of person you want to meet" (Aha I remember your advice on the Problogger social media panel, "Would you want to follow you?" Caz)
Currently reading?
Blog Inc by Joy Cho and 100s of blogs in my google reader
Your favourite travel destination?
Impossible to pick one, but I love Italy. I'm half Italian and would love to go back next year for a few months to improve my Italian.
What does happiness mean to you?
Happiness is a choice. It's about focusing on what's important to you and looking for the positives in every situation.
What is the biggest advice you would give to your 21 year old self?
At 21 I followed my heart to the other side of the world. It was the best thing I ever did. I would tell my 21 year old self to have more confidence in her dreams and to not be discouraged by the hard work it takes to make them happen.
What movie always makes you cry?
The Notebook
What's one thing people would be surprised to learn about you?
I don't spend a long time doing my hair. I do have to plan out days when I'm shooting tutorials but I follow my own easy tips and style my hair quickly every day.
Favourite makeup or skin care products?
I love a red lip, and can't beat NARS Heat Wave to brighten my day.
Describe yourself in three words?
Creative, Optimistic, Adventurous
What will you be doing 2 years from now?
Helping more women fall in love with their hair, working on new media sites and travelling the world.  
Hair Romance shares tutorials, tips, tricks and beauty advice to help you to love your hair. Hair Romance posts hair news daily to bring you hair-spiration and ways to have fun with your hair.

I'm Christina. I'm the hair behind Hair Romance. I used to hate my hair until I had a haircut that changed my life. I believe your hair is your best accessory. You wear your hair every day, and you should have fun with your hair.
So great to host you Christina and find out how we have so much more in common!