Actually it has been a little longer than 10 days because we went on a four day road trip and it kind of set my exercise routine a little back. And then I had minor surgery which interrupted it even more. Too much actually and has put me out of exercise for 1-2 weeks at least and I'm dying as I was doing so well and loving the program.
The Tracy Anderson Metamorphosis weight loss program
The program is measured in 10 day cycles which is why I'm focusing on that time frame. After 10 days is when you measure yourself and switch exercise routines.
I love having the target of the 10 days as it makes me super keen to finish one cycle in order to move onto the next. You have to workout for six days straight and then have a day of rest. Co-inciding with this cycle is a 7 day eating routine. So the two different targets are making it easy to get through what is otherwise a difficult program to master.
To be able to feel and see the transformation in just 10 days is just phenomenal. I've lost kilos, my body feels firm and light and for the first time in months the sluggishness that dominates my life has gone. I am still getting the same amount of sleep (not much) and I'm tired, but I'm not sluggishly tired and so have so much more energy racing around my body.
The first couple of days were tough and I did not think I would make it. I wanted to quit and I couldn't see my getting through the exercise routine completely and feel good about it. By day 7 I was bouncing around loving it and almost completed every single set easily. I did not look at the clock to see when the torture was over and instead of dragging out the pain it finished quite quickly.
A vast difference to day 1 when halfway through the routine I ran into the toilet and threw up my power juice of beetroot, apple and kale. I've never thrown up before while exercising. I've never drank that sort of a power juice before either. It was hideous, but by day 7 I was used to it and could drink it without wanting to barf.
Before starting the program I knew that I desperately need a cleanse and a lifestyle change. My body cried out for it. And then like magic one day the infomercial popped up on the TV in the middle of me watching Ellen, and Ellen disappeared. No kidding. I can't explain what happened.
And I bought the program. I think I vomited on the first day and felt so horrible for the remainder of the day because my body decided since I listened and committed it would kick into full scale cleanse mode on the first day and get it over and one with.
The Dynamic Eating Plan
The diet is tough. I quite enjoy the recipes, apart from the gazpacho, which after day 2 was just a little too much. But by day 7 I was kind of over the repetitiveness of the meals and was looking forward to week 2 switch up with a few more wholesome choices like eggs for breakfast and tofu and avocado with tomato and cucumber for dinner. It burst with freshness and flavour in my mouth. I felt full after it but not heavy.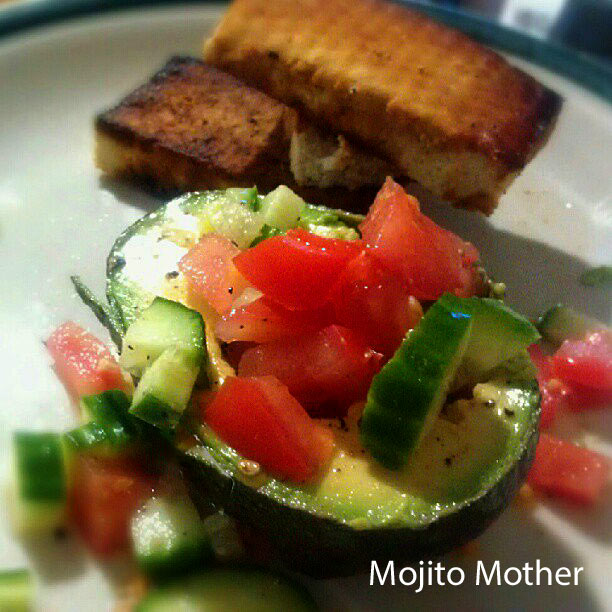 What is so great with the food is that with every mouthful you feel your body absorb the nutrients immediately and you zing. It doesn't even feel like it makes its way to your stomach. I had a "normal" meal on Day 4 of a falafel, as a result of being on a road trip and not having my supplies. It sat in my stomach for 8 hours after; I felt disgusting and could not eat another thing.
I am understating the impact of food choices on my body.  Breads and dairy so far have been shown the back door and will not be invited back.
The results
Tracy promises that your body will change shape like it never has before. I was highly sceptica,l but so far am amazed by the results. For the first time in my life I can see a glimpse of a sick pack, my love handles are disappearing and my jeans have lost the tightness around my butt and thighs. I've always been someone who has exercised and nothing has ever had such a dramatic effect over months and years as what this has over a week.
I'm loving it. I still have a long way to go. The program goes for 90 days. I don't want to get complacent and stop just because I have almost reached my target. I want to maintain this healthy way of eating and exercising because I feel so great. I'm so looking forward to see where this goes and to keep trying the yummy foods.
I think this program is amazing for losing weight and feeling good but you have to really stick to her diet and exercise regime and it is pretty hard core. But trust me as someone who has made the first 10 days and survived, it is worth it. I just hope I can maintain the eating routine until I can exercise again and not slide backward too much.
Here are the measurement results:
Bust: +1cm
Arm: – 1cm
Waist: – 1cm
Hips: -2.5cm
Thigh: -2.5cm
Weight: -2kgs
I'm happy with the hips and thigh results as it's really where I need to lose it. I think I could definitely do better. I'm really going to work on kicking that coffee habit, which I have been doing well with, and sticking to the diet. I really have to for the next couple of weeks now exercise is out.
Disclaimer: I am no way affiliated with the Tracy Anderson method. I paid for the program and am talking about it because I love it and am so excited by the results. I hate that I even have to write this disclaimer but this is the way of the world.
Read more posts on the Tracy Anderson Metamorphosis Method
Want to create the life of your dreams?

My 6-part email series will show you how to tap into your mojo to create a magic
| | |
| --- | --- |
| | We hate spam just as much as you |