Podcast: The Parenting Manifesto- How to be a better parent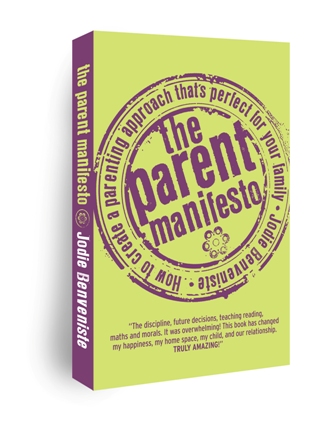 6
Welcome to Episode 6 of my podcast series where I chat with inspirational people.
Today's I chat with Jodie Benveniste from Parent Wellbeing.
I am excited to chat with Jodie about her new book The Parenting Manifesto. I think it is the best parenting book I have ever read as it is all about tapping into the powerful resources you have within yourself to be the parent you have always wanted to be.
Jodie shares with us
How you can create your parenting manifesto
How you can take control of any challenging parenting situation
Why it is important to look after your own wellbeing
What we should we do if we have a bad parenting day
What the AAA tool is and how can it help us when our parenting does not seem to be going right
How can we best help our children succeed and be happy
Press play to hear
Podcast: Play in new window | Download | Embed
The Parenting Manifesto
Finally a parenting book that doesn't make you feel like a failure, but instead empowers you to find deep within you all those tools you have for being exactly the parent that you want to be. Its all about aligning yourself with your values, managing yourself, and promoting your own wellbeing.
A must read for any parent! To be honest, I really enjoyed the tops and strategies in here regardless of being a parent- I think there are nuggets in here to help anyone who may be struggling with challenges and a lack of happiness in their life.
Jodie is also having an upcoming free webinar on
Parenting enemy #1: Everyone else knows best (or do they?)
During the webinar I'll be providing valuable information such as:
·         The 5 parenting pressures that are keeping us from having a great family life
·         The top 5 things that parents really want
·         The 3 things kids really need from us as parents
·         How one parent overcame her struggle with dealing with others' opinions about her parenting (including her own mum's)
·         How you can separate helpful and unhelpful parenting advice, and parent a little more confidently
It will take place at 8pm AEST time on Thursday, 26th April. The link is: https://www4.gotomeeting.com/register/787159231