We had two major milestones this weekend in the life of Savannah.
Not just for her but for Mummy too.
Two major things that opened my eyes up to the joy of being a mother of two sisters and having a family.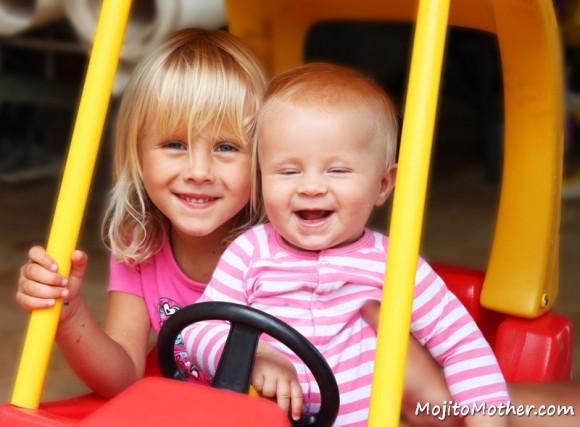 It's weird that it has hit me now and not when Savannah was born, but for the past six months she's just been a baby.
An adorable baby, but one that has been cruising in her baby world, filled with capsules and cots, milk and sleep.
Turning the Car Seat Around
There is much I lament about my baby growing up. When she started eating food there was the old pull at the heart knowing that she was no longer a baby baby. She was growing up.
No such feelings when it comes to turning the car seat around. That is a milestone we cheer for as it makes our life so easy. I no longer have to battle with the seat straps to pull her out and I can look to see if she is okay while I am driving.
She absolutely loves it and could not stop grinning and every time I turned around to see her she would laugh her head off.
It was when I turned around and saw her sitting next to her sister and she was reaching out to grab Kalyra that it hit me, I am the mother of two adorable sisters.
This is my family.
I then became the one grinning broadly and my chest swelled with love at how special my life is.
Lucky Craig likes to do most of the driving, which means I no longer face the front much, my head is always swinging around to stare and grin at these two delightful cherubs.
Moving Savannah into her Own Room
For the past six months Savannah's cot has been at the end of our bed. This week I reached the point where I was ready to release her into her own room.
It was time to welcome my own space back.
We spent the weekend rearranging the rooms and decluttering. The toy room has now become Savannah's space.
We left some of Kalyra's toys in Savannah's room mainly for space but so that Kalyra could come on in to spend time with her sister.
After it was all set up, Kalyra asked if she could sleep on the floor of Savannah's room to keep her company.
She jumped up and down with excitement, "Then I won't be lonely anymore."
She hates sleeping on her own and finds her way into our bed every night. I was excited with the thought this might put an end to it. (It didn't)
I walked into the room and Savanah was sitting on the floor playing with her toys and Kalyra was sitting opposite her talking to her and reading her stories.
My heart just melted. Their friendship is getting stronger every day. I can't wait to see it blossom.
When did you first start to notice a strong sibling relationship developing between your children?
Want to create the life of your dreams?

My 6-part email series will show you how to tap into your mojo to create a magic
| | |
| --- | --- |
| | We hate spam just as much as you |