The Bamboo Buddha and Improving My Photography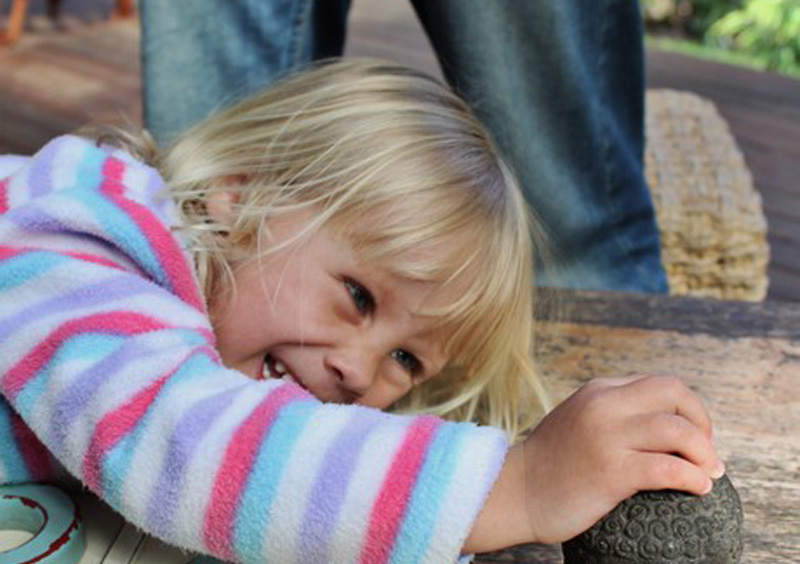 4
Craig, Kalyra and I set out for a picnic yesterday. We really didn't know where we were going but decided to drive out into the hinterland to a reserve area we once knew existed.
It was one of those days where someone went and moved the damn sign and we were driving instead down the rural roads of Holgate, admiring the very expensive properties in the area. The famous photographer, and my personal fave, Ken Duncan lives in these neck of the woods.
Bamboo Buddha Cafe and Nursery
We finally drove past the Bamboo Buddha Cafe and Nursery, a place we had wanted to go to for a long time to sample their vegetarian fare. The rain started to fall, so we said bugger the picnic, let's try it out.
As soon as I walked into the gardens of the cafe, I fell in love.
Flowering plants obscured the covered sitting areas and private eating cabanas.
Buddha Bar music played in the background, diners sat wrapped in red blankets, the smell of lentil curry wafted up my nose, and Buddha statues and prayer flags brought nirvana to the tranquillity of the natural setting.
Kalrya had fallen asleep in the car and we wheeled her inside in her pram, thinking we'd have some quiet time before she woke. But she woke up as soon as we sat down in a wail of tears when she saw were sitting at a table and not on a picnic rug,
"But, where's the picnic? I wanted a picnic!!"
Thankfully we could distract her with the noughts and crosses game that was sitting on the table.
Of course I was not allowed to win, and due to her mood teetering  on the edge of tantrum time, I was not about to head into the code of ethics style lecture.
She then looked around her and was fascinated by her surroundings.
"Look Mummy, there is Buddha!" Surprised that she remembered with such enthusiasm after our recent dining experience to the Malaysian restaurant Chinta Ria.
"Buddha's everywhere mummy."
The fishes swimming in the pool entertained her and she loved the path that took her down to the nursery and gardens.
Moving from the world of Auto to Manual Photography
A setting such as this provided me the inspiration I needed to whip out my camera and suddenly move from the world of semi-auto to manual.
I had been wanting to do this for so long, but just had no confidence in my ability to be able to know what to do or create any inspiring photographs.
My travel blogging friend, Bethany Salvon, who also happens to be a photographer- I mean a real professional one- sent me her ebook Getting out of Auto, filled with excellent tips and lessons on taking good photos.
I have heard some of these tips before, but learned many great new ones, which I will be exploring more and testing with the arrival of our new bubs.
I think the best thing about Bethany's book so far is that is has given me that confidence to know that I can easily do this. Confidence that has never been there before.
I switched the dial to "M"and away I went.
The whole time in my head I was thinking about the very simple explanations Beth gives on composition and light.
My mind was running through scenarios such as depth of field and how I was going to match this up with shutter speed and ISO to find the perfect combination for the photo.
I tell you it is hard work, but is worth it. While my photos are still not brilliant, I have made a giant step forward in having the confidence to move into the manual photography world, which will only help me to produce far better quality photos.
I'm super excited now to use Bethany's book more with my photography. It is simple and really jam packed with so much knowledge straight from a a pro.
I can't wait till this sort of stuff just comes naturally to me, which I feel so much more confident in that fact that it one day will. If only I could take photos as good as Bethany does! It all starts with a dream.
Bamboo Buddha Food
Now to the Bamboo Buddha food- the thing that inspired us to stop there in the first place.
Kalyra went for her usual plain option- garlic bread.
I melted with the wholesome goodness of my spicy Chickpea curry. My body tingled with the nutrition and energy it sent my way, reminding me once again just why I love being a vegetarian- food never tasted nor felt so good.
Craig on the other hand, was not too impressed with his lentil burger. I have a tendency to steer clear of ordering burgers in vegetarian restaurants. I usually find them too fancy and too dry.
This is exactly what Craig discovered. There is nothing like a Craig Makepeace who has not ordered a nice meal. His distaste led to the opening of a burger discucssion on facebook. Really, they should at least have a lid on them.
I really would love to go back to the Bamboo Buddha Cafe, not really for the food, but for a coffee and a tranquil setting that can help me get lost in the pleasure of just being for a change.
I highly recommend Bethany's book Getting out Of Auto, for anyone who wants to improve their photography. It's totally worth the $9.95 price. Click here to view more details